Merry Christmas!
I wish you all Merry Christmas and a happy new year
enjoy it.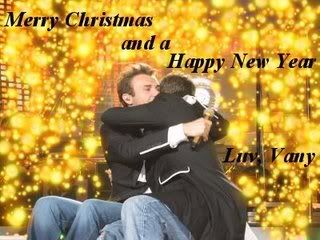 Luv,
Vany
Back...
...from London! And I have to say, it was fuckin amazing! But now, Iīm in a really weird mood! I donīt know, everything is different, now...weird school! And I donīt wanna do that! But now itīs much better....
check out some new pics at my gallery...
see ya
Vany
When you happy and you know it clap your hands...
I am going to Londooon
how ace is that? You canīt believe how happy I am...I mean..London! Thats a city where I always wanna go to..(correct english? hmm...I donīt care *laugh*) so, see you then me mates
Vany
xxx
Yiha...
Yeah, my new design...isnīt it ace? Love it! Absolutely..
But beside that, I havenīt got any other interesting things to tell...a bit boring at the moment *laugh*

see ya soon me mates

xxx

Vany

song for the day: Scissor Sisters - I donīt feel like dancing





decision?

Heya everyboooooody!!

I think I need your help! Shall I go to London, or not? I really donīt know! I would love to, but Iīm not sure if I can do that. I mean, I was in Vienna not long ago and in Munich and Hockenheim...hmm...very hard decision

luv u all

Vany



 [eine Seite weiter]



Gratis bloggen bei
myblog.de